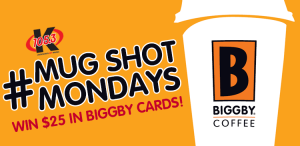 Do you have a case of the Mondays?
Start your week off right with a chance to win $25 in FREE BIGGBY Coffee drinks!!
How it works:
MONDAYS: Post a selfie of you and your BIGGBY Coffee Drink on Instagram with the hashtag #K1053MugShotMonday AND/OR #BIGGBYMugShotMonday and you're in the running!
At the end of each Monday, we'll browse the photos posted with these hashtags and pick one to win $25 in FREE BIGGBY Coffee Drink Cards!!! 
Subject to Instagram Terms & Conditions. Profile must be set to Public for us to see the photos. Photos posted with these hashtags may be used in K-105.3 marketing & promotional materials
Participating Jackson-area BIGGBY Locations:
Downtown Jackson – Cooper St.
Albion
Springport Rd. (By Baker College)
Corner of E. Michigan Ave & Dettman
Check out our winners so far!!