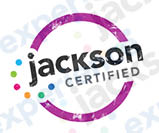 What is Jackson Certified?
Jackson Certified is a community trivia program which challenges individuals and organizations to learn more about Jackson County with the ultimate goal of enhancing community pride. We need positive community pride to continue to grow and enhance Jackson County.
How do I get Certified?
There are a couple of different options on becoming Jackson Certified.  Personally, organizationally, or both.
To become a Jackson Certified organization, you will work with Experience Jackson to identify a specific certification path, which may consist of challenging staff to become individual certified, or team building Jackson Trivia Sessions. The team building trivia sessions are so much fun! Usually these take place during a staff meeting of your choice.
How the organization gets certified can be tailored to that specific organization.
Certification:
Once an organization is certified, we can announce it on the Experience Jackson Facebook page, "[Your Business Name] took the Jackson Certified Challenge!" The Jackson Certified logo will be emailed to the organization to be displayed on their website. We will also schedule a time after the completion to take a group photo, and to personally award the organization and the staff their certificates.
For more information, call Experience Jackson at 517.764.4440