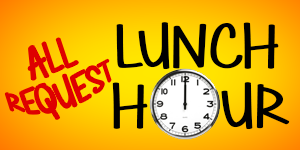 The All Request Lunch Hour is brought to you by Marino's Pizza!!
Listen every day for your chance to win a gift certificate!
3:30  Rewind WITH J-ROD
Call in and guess the 80's song and artist with J-rod and you will win a prize!
Miscellaneous Gift Certificates to area businesses
4PM – MY 3 SONGS WITH J-ROD
If you're the right caller you will get to play DJ and play your favorite 3 songs back to back to back.
Miscellaneous Gift Certificates to area businesses