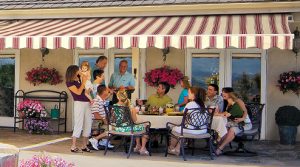 K-105.3 and Addison Awning are giving one of our listeners the prizes they need to give their patio a facelift this season!
GRAND PRIZE:

12'x10′ Sunsetter Vista awning
from Addison Awning…
PLUS gift certificates to The Hobbit Place, Lester Brothers, and Hidden Lake Gardens so you can personally pick out the items you want for a fresh new look in your yard.. and a $600 Grill from Hammond Hardware!
HOW IT WORKS:
Enter using the form below, and include a picture of your patio/yard that's desperately in need of some help! We'll pick our top favorites and invite them to Addison Awning for a final drawing in April with the K-105.3 crew.
ENTRY DATES & DRAWING:
Enter March 13th through April 9th
Final drawing / prizes given – April 13th
ENTRIES:
SPECIAL THANKS TO: