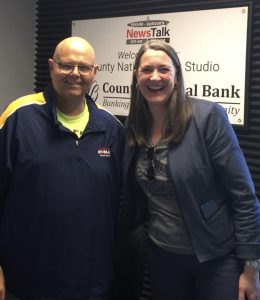 Consumers Energy is on a mission to meet Michigan's electricity needs with 90-percent clean energy resources by 2040. Along the way, they also hope to reduce carbon emissions by 90% and eliminate the use of coal.
This all starts with a seven-stop "Love Michigan" tour to get the word out, right here in Jackson. Patti Poppe, CEO of Consumers Energy, joined Greg O'Connor of NewsTalk 970AM/101.5FM this morning.
Consumers is asking customers to pledge their support to be a Clean Energy partner at MICleanEnergyPlan.com. As their way of saying thank you, they'll plant a tree in your honor.
Poppe explains that there are ways for everyone to do their part, from using more efficient light bulbs and appliances, to powering air conditioners at the optimal times or subscribing to a community solar program.
"No one can do everything, but everyone can do something. The Clean Energy Plan is our blueprint to build a clean energy future for our grandchildren – and their grandchildren," Poppe concludes.