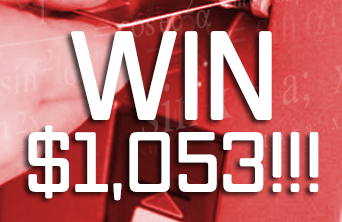 K-105.3, CP Federal Credit Union, and Sweet Scoops are teaming up to provide you with a little post-holiday relief in the form of $1,053!!
January 2 – 31, 2020
You can enter online below, BUT… you have to crack the code to our studio ATM from CP Federal Credit Union to better your chances of winning!
Every morning at 8:10am on the K-105.3 Morning Show, Scott & Jenny will tell you the first 3 digits of the PIN of the day to our on-air ATM. Guess the 4th digit correctly and you get to withdraw $25 from the CP Federal Credit Union on-air ATM in the form of an Amazon Gift Card!!
Whether or not you guess correctly, you automatically go in the running for a chance to win $1,053 just by being one of our contestants!
We'll also be randomly selecting 30 names from the entries below, so get yourself signed up!
Grand prize winner will be determined by drawing at a giveaway event at CP Federal Credit Union on February 6th, 2020 between 5-7pm. All final contestants will be contacted with a personal invitation to participate. Must be present to win.
Sponsored by