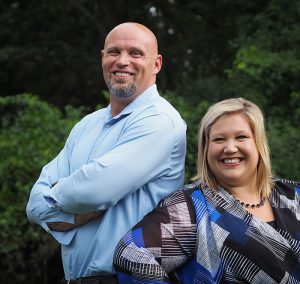 The K-105.3 Morning Show with Scott Clow & Jenny Lewis
Scott Clow
I am and have been proud to call Jackson County home. I grew up in Brooklyn, MI USA where I once blew my knee out playing basketball…after the buzzer…true story. My wife and my two awesome kids (as I write this I can actually hear both of them roll their eyes) will disavow any connection with me if asked. We have two dogs. One is named Cletus for the simple reason I wanted to yell CLETUS in a southern accent into my backyard.
When I'm not on the air I go golfing whenever possible (fun fact: I have golfed every month for nearly 48 consecutive months), long walks from my couch to my fridge and dodging potholes on the bike.
I'm fortunate to be "Living the Dream" and entertaining (or at least trying) you for a living. Thanks for listening and keeping me employed. Stay out of trouble and if you can't do that, don't get caught.
Jenny Lewis
I have lived in Jackson for the past 22 years and consider it home. I am a graduate of Northwest High School and attended Liberty University where I truly discovered the desire to work with the community. I am married and we have two beautiful daughters that are just like me….pretty awesome! My hubby is one lucky guy!
I love spending my free time with family and friends. When I am not busy being a rock star mom and wife, I love to sleep. Naps are my favorite! When you listen to the show, I want you to feel like we are old friends, simply hanging out in your living room laughing together. I am excited to get to know you, so feel free to grab your coffee and let's start our days together the right way….listening to the Morning Show!
Jamie "The Big Dog" McKibbin

A few facts about me are: I know everyone in Jackson and Hillsdale County by first name, I was expelled from school the first day of Kindergarten for TP'ing the boys bathroom, I actually should have been a professional Archery Shooter, My favorite movie is Dumb and Dumber, and someday I dream to own a small market radio station or 4. For now I live, work, and play in Jackson MI. I am married to my beautiful, smart, funny, brilliant, (did I say beautiful) wife Katina and we have a 7 ½ year old son Walker. I also enjoy (ok am obsessed with) Hunting and Great Lakes Fishing. Check me out of FB, I take quanity and not quality friends.
J-rod

Hello and thanks for taking the time to find out more about meeeeeeeeeee!!! First name J……. Last name Rod…… Don't believe me? Look it up in the phonebook, I'm listed…. Who the heck still uses a phonebook?!!! Anyways  my name is J-Rod and I do the afternoons here at K-105.3, plus a bunch of other stuff too.. And don't forget about the Drive at 5. WHOO WHOO!!! That's the 5'oclock work whistle. If you're lucky you'll get to blow it and win a prize Monday through Friday. I graduated from Northwest High School in 1998… Then Spec's Howard in October of 99, and I've been rolling with the K-crew since December of 99.. I love my wife and kids… Comic books, pro wrestling and craft beer. Hit me up sometime, jrod@k1053.com and like me on facebook.

Zach Sang is already a multimedia superstar personality with a new generation of followers. He is a radio prodigy, Nickelodeon personality, social media addict, pop culture junkie… and everyone's best friend. At just 21 years old, Zach is one of the most recognizable voices in media to people 12-28 years old. His success was self- created at age 14 when he went from grocery store bag boy to an instant internet radio star broadcasting nightly from his parent's home in Wayne, New Jersey. Zach quickly amassed an online following of 2.6 million teens from coast to coast. Zach has done over 10,000 interviews with major celebrities from Justin Bieber to Miley Cyrus to the mind behind Twitter Biz Stone.
Zach also hosted "Zach Sang & The Student Body" which incorporated hit music and aired nightly from 7-9PM on GOOM Radio. Zach served as the creator, executive producer and music director of Zang Radio – the second largest teen radio station in the country. In 2012 Zach, WYD Media and Westwood One launched Zach Sang and The Gang a fresh, new and social show that is available to Top 40 stations nationwide. Since the launch Zach and his friends can be heard live every night by 4 Million+ people, coast to coast, on over 30 Top 40 Radio Stations. Zach is one of most popular voices on college campuses including West Virginia University, Ithaca College, Texas Tech, University of Vermont and many more. Over 550,000+ college students can listen every night.