The K-105.3 Morning Show with Scott Clow & Jenny Lewis
MONDAY to FRIDAY -- 06:00 AM - 09:00 AM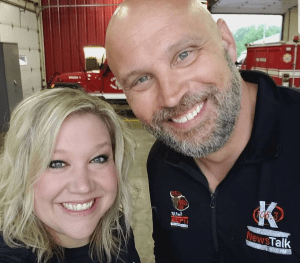 Scott Clow
I am and have been proud to call Jackson County home. I grew up in Brooklyn, MI USA where I once blew my knee out playing basketball…after the buzzer…true story. My wife and my two awesome kids (as I write this I can actually hear both of them roll their eyes) will disavow any connection with me if asked. We have two dogs. One is named Cletus for the simple reason I wanted to yell CLETUS in a southern accent into my backyard.
When I'm not on the air I go golfing whenever possible (fun fact: I have golfed every month for nearly 48 consecutive months), long walks from my couch to my fridge and dodging potholes on the bike.
I'm fortunate to be "Living the Dream" and entertaining (or at least trying) you for a living. Thanks for listening and keeping me employed. Stay out of trouble and if you can't do that, don't get caught.
Jenny Lewis
I have lived in Jackson for the past 22 years and consider it home. I am a graduate of Northwest High School and attended Liberty University where I truly discovered the desire to work with the community. I have two beautiful daughters that are just like me….pretty awesome!
I love spending my free time with family and friends. When I am not busy being a rock star mom, I love to sleep. Naps are my favorite! When you listen to the show, I want you to feel like we are old friends, simply hanging out in your living room laughing together. I am excited to get to know you, so feel free to grab your coffee and let's start our days together the right way….listening to the Morning Show!
Join the K105.3 VIP club and get a weekly email about what we're up to, contests, giveaways, and more!