3rd Annual K105.3 Fall Fest & Chili Classic – September 30, 2023
Saturday, September 30, 2023
Downtown Jackson
Chili Classic ($5 tasting wristbands on sale @ Noon)
Vendors
Live music on 2 stages
ORS Oktoberfest 5K/10K – Sign up here!
Social district – buy an adult beverage at participating bars & restaurants and roam around freely downtown with it
FREE Kids Kingdom at Horace Blackman Park
***SIGN-UP FOR CHILI & VENDORS NOW CLOSED***
CHILI & SALSA CONTESTANTS:
Found Church
Lewis22
Xcel Staffing
Vandercook Lake Lions
Crown Industrial Services
Concrete Connoisseurs (Doan Companies)
Bringing The Heat (IST)
Elara Caring
Production Realty
Jackson Barber Company
St. Louis Center
Lester Brothers Excavation
ERA Reardon Realty
Phelps Towing
Willbee Transit-Mix
Tripp's Collision-JACKSON
Tripp's Collision-LANSING/EAST LANSING
American 1 Credit Union
Harvest Solar
Everything Chili – Home Loans & Exit Realty 1st
Cascades Humane Society
McKibbin Media Group-HILLSDALE
McKibbin Media Group-JACKSON
Rob Cape State Farm
TBH (The Brokerage House)
Mission Point
The Barky Bunch (Jackson County Animal Shelter)
Fireball Chili
Stoyanna's Catering
Roadhouse Grill & Bar
Vito's Espresso, presented by The Protection Center
Grand River Brewery
West Texas BBQ
One North Kitchen & Bar
Murphy's Bistro
Nite Lite
Lean Rocket Lab/Shorties
Northwest Community Schools
da Vinci Schools
Jackson Area Career Center
County National Bank
VENDORS:
@ Home Mortgage
Anytime Fitness
A Touch of Paradise Permanent Jewelry
Angie Martin
Century 21 Affiliated
Creatively MacD Creations
CryoHealth
Dawn's Dazzling Creations
Dream Out Sketch Art LLC
Experience Jackson
Fallen Outdoors
Jackson First United Methodist Church
JCISD / JACC Fire Academy / Jackson College EMS
Jackson United Hockey
Kings Kettle
Lindsay Proskie
Lynda Taylor
Neverland Entertainment
Tedders Family Implant Dentistry
Terri's Glorious Gems
The Five Forks
Tunnel to Towers Foundation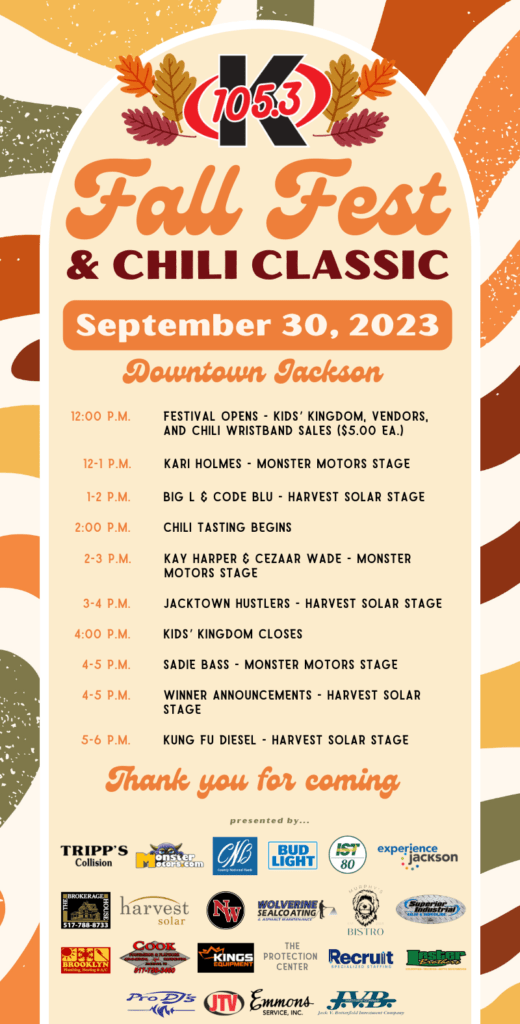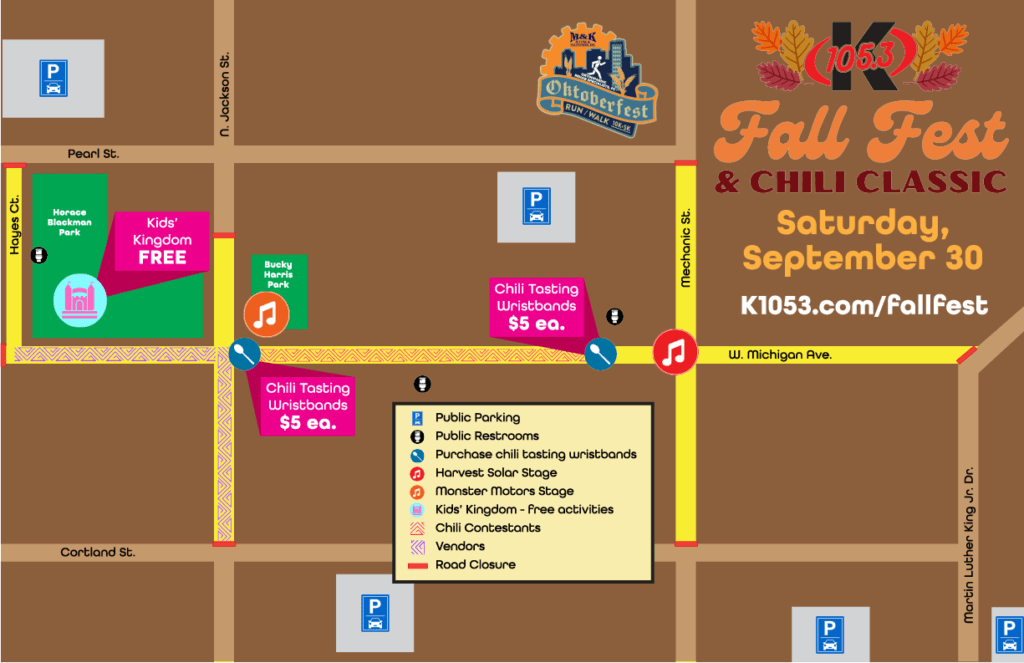 Jackson, Mich. (WKHM) – McKibbin Media Group (MMG) and its popular music station, K105.3, is slated to continue the annual K105.3 Fall Fest & Chili Classic for a third consecutive year in downtown Jackson on Saturday, September 30.
The 3rd Annual K105.3 Fall Fest & Chili Classic is presented by County National Bank, Monster Motors, Tripp's Collision, and Industrial Steel Treating. The event, which is free to the public, will include a chili contest, kid-friendly activities, live musical entertainment, shopping, and new this year, the Orthopaedic Rehab Specialists Oktoberfest 10K/5K Kids Superhero Run.
"This has been a great event for McKibbin Media Group and our radio stations," MMG President and Owner Katina McKibbin said. "We have been ecstatic and thankful for the participation of so many to make this event a big success for the Jackson community. Between the chili contestants, vendors and musical acts – and now the ORS Oktoberfest Run – the 2023 edition of the event is shaping up to be another can't miss opportunity for the community. A special thanks to all of our partners. Without their commitment this event would not be possible."
"Orthopaedic Rehab Specialists is thrilled to partner with McKibbin Media Group to truly make September 30 a FULL day of community activity in downtown Jackson," says Melissa Burgett, Community Outreach Coordinator for Orthopaedic Rehab Specialists. "We have been offering our race in Jackson for over 30 years, and are excited to continue this event in conjunction with the K105.3 Fall Fest & Chili Classic."
The race begins at 9:00 a.m. with a Kids Superhero Run at 10:00 a.m., and the 313 Polish Lager Beer Mile presented by Grand River Brewery at 11:00 a.m. All race participants will receive a free tasting wristband for the Chili Classic. Participants can find more information and register online at www.orsraceseries.com.
K105.3 is also currently seeking contestants in the Chili Classic as well as vendors. Applications for both can be found at www.K1053.com/fallfest.
Tasting wristbands will be available for purchase on-site for $5.00 each, which allow patrons unlimited tastings for chili and salsa starting at 2:00 p.m., and other activities may incur nominal fees. The Kids' Kingdom, which is moving to Horace Blackman Park, is entirely free, thanks to the sponsorship of the Jackson Downtown Development Authority (DDA).
Musical entertainment, focusing largely on local talent this year, will take place throughout the day on two different stages with details to be announced at a later date.
More information as it becomes available will be posted at www.k1053.com/fallfest and announced on McKibbin Media Group radio stations.
ABOUT McKIBBIN MEDIA GROUP
McKibbin Media Group (MMG) was founded by the late Jamie McKibbin (1977-2020) and his wife, Katina, in December of 2019. MMG currently holds six local radio stations in its portfolio, providing quality news, sports and weather coverage, plus music and entertainment to tens of thousands of listeners in the Jackson, Hillsdale and surrounding communities in Michigan. MMG also provides digital and social media services, plus hosts a variety of community events each year. For more information on MMG and its stations, visit www.mckibbinmediagroup.com.
MMG Stations
Jackson, Mich.
K105.3 FM – Jackson's Hit Music Station
WKHM 101.5 FM/970 AM – NewsTalk
WIBM 95.9 FM/1450 AM – The Power Cow (Country)
FOX Sports Radio 101.9 FM – Jackson's FOX Sports Radio
Hillsdale, Mich.
WCSR 92.1 FM – Hillsdale's top AC station
99.5 FM The Dale – Hillsdale's Country Station