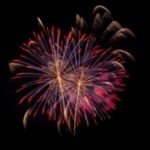 Jackson, MI — As Fourth of July approaches, the City of Jackson has taken a moment to remind residents of the fireworks ordinance within the city limits.
The City of Jackson posted on its Facebook page:
"Consumer fireworks, the largescale aerial fireworks that shoot into the sky for a large visual effect, are allowed from June 29 to July 5 from 11 a.m. to 11:45 p.m. Any usage outside of these times may result in a $1,000 fine. The City has been receiving various complaints about illegal fireworks usage and police have been enforcing the ordinance. If you'd like to report a fireworks concern, you're asked to call 911."
If you're unsure about fireworks ordinance in your area, check with your local township office.