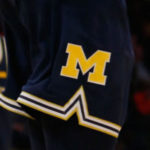 A red hot University of Michigan Basketball start has been put on hold for a minimum of the next 4 games. The 13-1 Wolverines, ranked 4th in the country will join in state foe, The Michigan State Spartans in postponing and cancelling upcoming games due to covid-19 infiltrating their programs. Michigan is coming off of a huge win against Purdue 70-53.  In a twist of irony, Michigan States last game came in a losing effort against Purdue 54-55 on a buzzer beating floater by standout junior Trevion Williams. Sources can't confirm if the outbreaks are linked.  Due to the outbreak of 20 cases, 5 of those being a new variant of covid-19, the following games have been postponed:
Jan. 27 at Penn State
Jan. 30 vs. Indiana
Feb. 3 at Northwestern
Feb. 6 vs. Michigan State
The Penn State game was a makeup game that was postponed on the 9th of January.  It is unclear if either team will seek a makeup game, or cancel the game entirely.
Michigan State plans on returning to the floor on January 27th as they are slated to play at Rutgers. The Wolverines hope to be back in action on February 11th, as they are scheduled to host #19 ranked Illinois at 7 pm on ESPN.