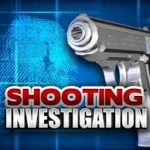 Battle Creek Police have released dashcam footage of an officer-involved shooting that left a Jackson man injured.
The footage does not show the actual shooting, only audio of the incident and the reactions of a nearby officer and suspect.
The Jackson man, 18 year-old Daevion Wright, was shot in the arm and shoulder and was left with non-life threatening injuries.
The incident occurred during a traffic stop conducted on Tuesday, October 3, just after midnight in Battle Creek.  A vehicle driven by 21 year-old Jacquann Smith of Jackson was stopped for erratic driving by Officer Ryan O'Connell.  A second officer, Andrew Frantz, arrived soon after.
While Officer O'Connell was dealing with the driver, Officer Frantz went to speak to the passenger, Daveion Wright, and noticed a firearm in his waistband.  Frantz ordered Wright to put his hands up.  Police say that Wright initially complied, but reached for something under the seat.  Officer Frantz can be heard yelling for him to not move before firing, hitting Wright in the arm and shoulder.
Police recovered two handguns from Wright.  One from his waistband and another from the vehicle's floorboard.
Both officers are on paid administrative leave pending an internal investigation.