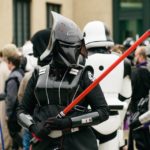 Disney created a 'real' lightsaber and now we all want one. 'Real' in the way that it actually expands and retracts, just like the ones in the "Star Wars" movies.  And it makes noises like the real ones too. Check out the video of its recent debut at the South by Southwest Festival:
And the official lightsaber comes out! pic.twitter.com/yLvq3L6Imn

— Disney Food Blog (@DisneyFoodBlog) March 10, 2023
You don't even have to be a Star Wars fan to appreciate how cool that is.
Unfortunately, Disney has no plans to sell them to the public any time soon. For now, the only way to see them is to book a flight to Disney where some of the actors at their parks and attractions carry them.
Get the full story here.