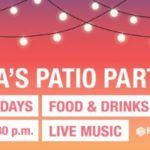 Ella Sharp Museum has made the decision to cancel this Thursday's, July 9th, Patio Party due to the extreme heat. Jackson is expected to see a high temperature of 90 degrees on Thursday with possible scattered storms in the afternoon and evening.
Citing a lack of shade on Farm Lane, Ella Sharp Museum says they want to ensure the safety of their guests and staff. Patio Parties will commence on Thursday, July 16th beginning at 5:30pm and take place weekly with live entertainment through September 3rd.
As a reminder due to Covid restrictions, tables and chairs will not be provided. Ella Sharp Museum asks Patio Party guests to bring their own chairs, and umbrellas are not allowed.  Staff and volunteers will be serving food to guests at their seats, provided by The Brass Rail. Beverage service will also be handled by their waitstaff at guests' seats.
The summer 2020 lineup (excluding July 9th) is below: