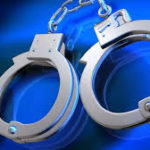 Former teacher at St. John's catholic school Joseph Comperchio was arrested in Fort Myers, FL on Monday.  Comperchio is scheduled to be arraigned Tuesday in FL on two counts of first degree and four counts of second degree criminal sexual conduct.
Comperchio's arrest is part of the state's ongoing investigation into clergy abuse in Michigan.
Attorney General Dana Nessel's office says two people have made allegations of abuse between 1974 and 1977 when they were between 9 and 11 years old.