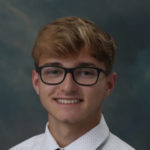 Jackson, Mich. — The first annual Jamie McKibbin Scholarship has been awarded to Seth Polmanteer, a freshman at Central Michigan University.
Polmanteer, a sports broadcaster, is a crew member for CMU Athletics and has also served as the Sports and Digital Department Director for DTV News where he was the recipient of several awards.
The Jamie McKibbin Scholarship Fund, through the MAB Foundation, has been established to honor the late owner of McKibbin Media Group's legacy and love for broadcasting, and aims to award one driven student $1,000 each year to pursue their degree and interest in broadcasting.
"On top of his dedicated hard work ethic, Seth is an even better person. He's driven, responsible and always brings a positive attitude to work," said Andrew Gerber – Assistant AD/Director of Multimedia at CMU, in a letter of recommendation for the scholarship.
Learn more about the scholarship and how to donate below.