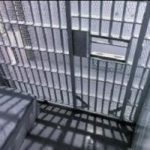 The Eaton County Sheriff's Department has announced that they've captured the man who escaped the Ingham County Jail over a week ago.
Two separate vehicle chases Saturday in Eaton Rapids lead to the capture of the escapee.
Guards discovered that 32 year-old Michael David McKerchie was missing from his cell early Friday, November 13. He escaped by meticulously dismantling a window. He left behind a decoy sleeping body in his bed made of mattress stuffing.
McKerchie fled the area in a stolen vehicle.
Saturday, an alert citizen saw McKerchie leaving an Eaton Rapids convenience store in a pickup truck and reported it to police. An officer soon arrived to the area and pursued McKerchie to a cemetery where the escapee would crash their truck.
McKerchie fled the crash on foot and stole another nearby pickup truck, leading police on a second chase.
Police were then able to set up a perimeter and stop the escapee without further incident.
McKerchie was sent to the area hospital for evaluation.
He was originally in jail for auto theft and other felonies.
He faces multiple charges in Ingham and Eaton counties.