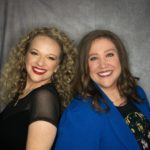 (Pictured, L-R: Jessica Poxson, Jenny Lewis)
Jackson, Mich. – McKibbin Media Group (MMG) is pleased to announce that radio veteran Jessica Poxson will join Jenny Lewis as co-host of the group's flagship K105.3 FM Morning Show on Monday, January 23. The morning show will be renamed 'Jenny and Jess in the Morning on K105.3.'
Poxson, a Jackson, Mich. native, comes to K105.3 FM from Augusta, Ga., where she served as Morning Show co-host on WKXC Kicks Country 99 for two years. Poxson also spent over eight years in Detroit radio, having served in a variety of capacities for Nash Country and WYCD, among others.
She is a 2011 graduate of the Specs Howard School of Media Arts.
"This is a wonderful opportunity for me to come back home to Jackson and serve in this new role as co-host on this great Morning Show for K105.3, Jackson's hit music station," Poxson said. "I'm excited to get started and build a great relationship with Jenny Lewis that will provide great entertaining on-air and social content for our listeners. I love the Jackson community and am glad to be back."
Jenny Lewis started with McKibbin Media Group as co-host of the K105.3 Morning Show in 2017. In her latest advancement, Lewis has taken over the mixing board as the main host of the Morning Show on K105.3. Rebranding the show 'Jenny and Jess in the Morning' is the next evolution in the process of continuing to make the morning show on K105.3 number one (#1) in the Jackson market and surrounding area.
"Adding Jessica to the morning show lineup will be great. She will bring a positive and energetic personality every morning for our listeners and sponsors. I can't wait to get started with her and make 'Waking up with Jenny and Jess' the best it possibly can be for our community," Lewis said.
The Morning Show takes place live from 6 a.m. – 9 a.m. Monday-Friday on 105.3 FM locally in Jackson and streaming online at K1053.com or via our free mobile app for Apple and Android devices.