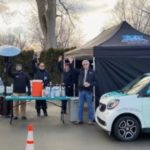 Jackson, Mich. — Friday, February 12, 2021 My SMART Team at EXIT Realty 1st hosted a client appreciation event. The outdoor drive-through event welcomed current and past clients with coffee, hot chocolate, and a box of valentine chocolates. Guests were welcomed to stay and make s'mores over a warm fire. Despite frigid temperatures, My SMART Team welcomed a larger-than-expected turnout.
"Our clients mean the world to us. They are more than just a transaction, they are our friends and neighbors in our shared community, and we want to show them how much we care about them. It was awesome to have such a great turnout for the event, even with the cold weather," said Ben Kono, My SMART Team at EXIT Realty 1st.
Coffee was provided by Vito's Espresso. Chocolates were provided by the Jackson Candy and Fudge Factory.