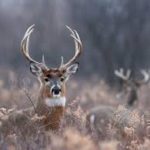 New deer hunting regulations in Michigan will allow hunters in the Lower Peninsula to hunt antlerless deer more often and will also permit younger hunters to shoot deer with any number of points.
The Natural Resources Commission approved the changes this past week. Hunters may take antlerless deer during archery, firearm, and muzzleloader seasons, and hunters may use any firearm during muzzleloading season.
"These recommendations are aimed at making it easier for hunters of all ages and experience levels to enjoy a Michigan outdoor tradition, while at the same time facing the present and future challenges of managing the state's abundant deer population," said Chad Stewart, the DNR's deer, elk and moose program leader.