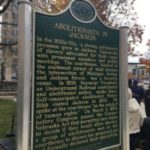 Jackson's anti-slavery history is being honored with a new State of Michigan Historical Marker. The marker, titled "Abolitionists in Jackson", was unveiled during an outdoor event Friday morning in Bucky Harris Park.
Bucky Harris Park sits at the corner of W. Michigan Avenue and N. Jackson Street. In the mid-1800s, there were several commercial buildings at this location. Research from Jackson resident Linda Hass shows Michigan's first anti-slavery newspaper, the American Freeman, along with three other antislavery newspapers, were founded in these commercial buildings.
These newspapers were influential in the anti-slavery movement preceding the Civil War. The American Freeman is now recognized as Michigan's first anti-slavery newspaper. Hass's research shows all of the newspaper's founders put their words into action by being involved in Underground Railroad activity. Jackson has been identified as a stop on the Underground Railroad, which was a secret network dedicated to helping slaves escape to freedom.
At the unveiling event, Hass said this new marker is a big honor for Jackson. "Having the first abolitionist newspaper in Michigan is something for Jackson to be proud of. This may seem like a quite little park today, but it was once at the center of the turbulent fight to end slavery," Hass said.
Mayor Derek Dobies says while the marker honors the past, it also provides inspiration for the present. "When I look at Jackson, I see our community time and time again practice the politics of love," Dobies said at the event. "When we celebrate the work that Jackson did on the Underground Railroad and the abolitionist movement, we also send a clear signal to the work that is ahead of us."
Earlier this year, Bucky Harris Park was listed on the National Park Service's Underground Railroad Network to Freedom. It's a national listing that highlights sites important to the Underground Railroad.