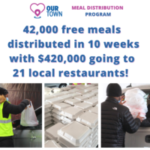 Jackson is celebrating the success of an innovative program that helped the community through tough times during the COVID-19 pandemic. On Friday, April 9, the last meal of the Our Town Meal Distribution Program will be served, ending a 10-week program that handed out nearly 42,000 free meals to residents, and paid a combined total of about $420,000 to 21 area restaurants and catering companies. Our Town was the result of a partnership between the City of Jackson and Consumers Energy. Working out of the City's Martin Luther King Jr. Recreation Center, healthy meals were distributed to people in need every Monday, Wednesday and Friday evenings from Monday, Feb. 1 to Friday, April 9. A drive-through system was set up in the center's parking lot to accommodate the big demand for healthy, free meals. 1,450 prepared meals were available every distribution day. Most days saw all meals given out within the first 90 minutes. "Consumers Energy is so gratified to make a meaningful impact on thousands of households in our hometown," said Roger Curtis, Consumers Energy's vice president for public affairs. "It's extraordinary to see this effort grow from an idea and draw so much support from so many people in only a few months. The City of Jackson, Consumers Energy and anyone who supported this should know they did wonders for Our Town that needed help during the pandemic." Based off a similar community food program in Vermont, Our Town was funded by $220,000 from Consumers Energy, with other community partners rallying to provide the rest. Funds went to 21 local restaurants and catering companies to produce prepackaged meals, which were distributed by City staff and volunteers at the MLK Center. MLK Center Director Antonio Parker worked alongside volunteers at every event. "The huge demand we saw for meals really showed how much the pandemic is impacting Jackson. This was something families depended on to make ends meet, and they told us how thankful they were for this program," Parker said. The businesses had to meet certain qualifications, such as purchasing a minimum of 50% of supplies locally. The program's goal was to help with the COVID-19 pandemic on three fronts, providing free meals to people
struggling with food security, helping local businesses financially impacted by pandemic restrictions, and keeping employees working at the businesses.
Mayor Derek Dobies says this collaboration shows the great things that can happen when local organizations work together. "This partnership with Consumers Energy made sure hunger issues were kept at the forefront during this pandemic," Dobies said. "I thank our dedicated City staff and community volunteers who worked tirelessly to help our neighbors in need." The following restaurants and catering companies provided meals for the Our Town program: Bella Notte Ristorante, 308 Brass Rail, Big Guy Catering, Candi's BZB Cafe, Gene Davis & Sons Catering, Grand River Brewery,
Ixcanul, Jackson Coney Island, Knight's Steakhouse & Grill, WestEnd Farm to Table, Veritas, The Crazy Cowboy, Nite Lite, Cascades Manor House, KeniKakes & More Catering, Marino's Pizza and Catering, Junkyard Dog, Sylvia's Catering, HotRodz Smokehouse, Aggies Sports Bar, Callaghan's Coffee Cafe.