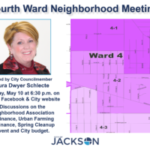 Neighborhood meetings in Jackson continue in a virtual format. Fourth Ward City Councilmember Laura Dwyer Schlecte has planned a virtual neighborhood meeting for Monday, May 10 at 6:30 p.m. on the Zoom platform.
Two proposed City ordinances, the Neighborhood Association Ordinance and the Urban Farming Ordinance, will be discussed at the meeting. There will also be information about a Spring Cleanup Event and the new City budget. The ordinances and City budget can be viewed online.
Neighborhood meetings are a way for City Councilmembers to meet with residents from their wards and present information on City programs. Since the COVID-19 pandemic, meetings have taken place virtually.
Zoom meeting information is posted on the City website. It will also be live streamed on the City Facebook page and website. All Jackson residents are welcome to attend.